Conversational Intelligence Coaching and Culture Change Expert
To get to our next level of greatness depends on the quality of our
culture, which depends on the quality of our relationships, which
depends on the quality of our conversations…
Everything happens through conversation!
– Judith E. Glaser –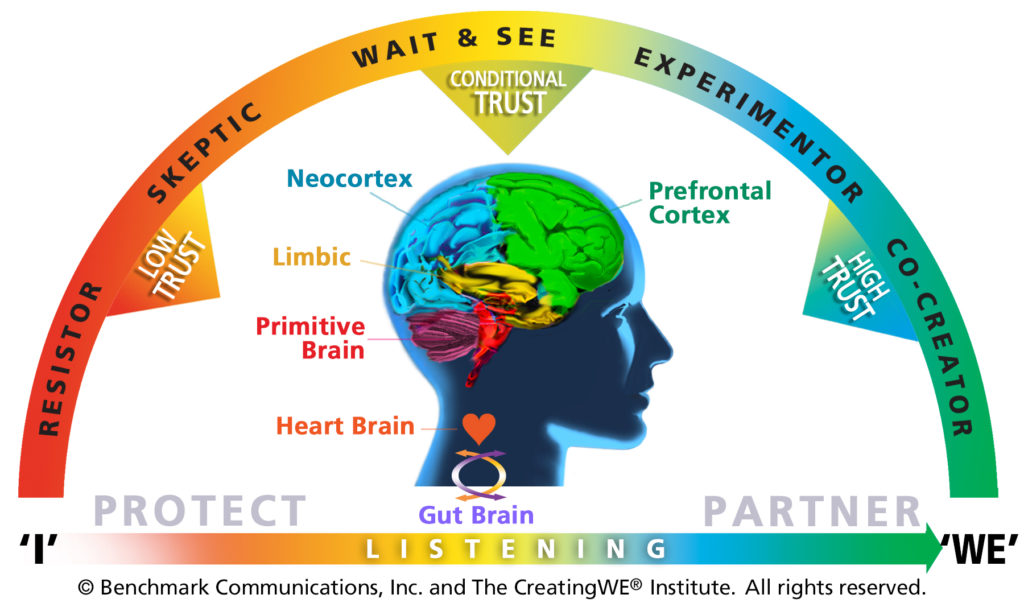 Everyone who runs a business strives to assemble the most intelligent team of people they can find. Unfortunately, in their search for top talent, they often overlook conversational intelligence – the most important kind of intelligence when it comes to business success.
When you properly harness conversational intelligence, you have the power to strengthen your relationships, transform your teams and shape the future of your organization for mutual success. But most conversations miss the mark – especially those uncomfortable conversations you'd rather not have.
Imagine you're a sales manager or business executive and you're meeting with a team member who failed to reach a critical quota or goal. What if you broached the subject in a way that makes that salesperson or staff member uneasy, or makes that person feel threatened? What's accomplished in this case? Most likely, resistance, distrust, and an unproductive exchange.
It doesn't have to be this way.
Make no mistake – without conversational intelligence, there's no foundation upon which to achieve the next level of greatness, for achieving greatness depends on the quality of your culture…
And the quality of your culture depends on the quality of your relationships…
And the quality of your relationships depends on the quality of your conversations.
Fortunately, advances in neuroscience are giving us the tools we need to look inside our brains while we're having conversations to reveal just what's going on…and why.
What we're learning is conversations are not just about words and information. See, there's a hidden language of trust imbedded in every conversation. And when we speak with each other, significant neurochemical changes take place that impact how trusting – or distrusting – we'll be.
The conversations we have when we're stuck and distrustful often create destructive, unproductive exchanges.
As a result – we create fear. But not all difficult conversations need to cause us to feel threatened or fearful.
Believe me, it's entirely within your power to gauge the impact of your conversations – in real time – and prime them to create mutual trust and success. I know this for a fact because I'm pursuing Certification in Conversational Intelligence with Judith Glaser.
Judith is the world's leading authority on Conversational Intelligence and the author of, Conversational Intelligence, How Great Leaders Build Trust and Get Extraordinary Results.
Thanks to her work – and my 20-plus years as a project management consultant – I possess the tools to activate your natural ability to effortlessly conduct effective, co-creative and transformational conversations. Throughout my career, my focus has been to help organizations achieve greatness through developing a culture that's aligned with their mission. As a result of this work, I fully understand the challenges organizations face as they struggle with cultural confusion. And the number one cause of that confusion is poor culture…which is caused by poor relationships…which is caused by a lack of conversational intelligence.
It doesn't have to be that way for you. I can unleash your innate ability to converse intelligently so you can establish a workplace culture that will empower your teams to achieve greatness.
And that will virtually assure your company's success.
I invite you to contact me for a free 30-minute consultation.

All you have to do to get started is fill out the simple form below.

So please don't wait – fill it out now to learn how to effortlessly conduct effective, co-creative and transformational conversations.
Organizational 360 Health Check Assessment and Roadmap Development
Are you challenged with identifying which areas of your PMO to improve first? Are you struggling with identifying the quick win initiatives that will demonstrate to your leadership team that implementing an Enterprise PMO can create real strategic value, increase project throughput and deliver project benefits faster? The PMO 360 Assessment helps organizations who are challenged with these issues by capturing your PMO's As Is and To Be State and building out a road map of key initiatives that will provide the greatest value to the company in less time.
"During the engagement, Gerald quickly learnt our business processes and adopted a PMO assessment process to meet our needs. At the end of the engagement, Gerald presented a professional assessment that directly addressed the issues we were facing and provided a road map which included quick win solutions that we could act on immediately."
Ibrahim El-Araby,PMP,PMOC,CSSBB, Project Manager at EBA Engineering
Free Initial Discovery
Gerald Leonard offers a free initial discovery assessment for new clients. To learn more about his services, training and coaching practices; and to receive your free consulting please complete form below. Also, please include 2 to 3 preferred dates and times to schedule your consultation and include the outcomes you would like to achieve during our meeting.